Time Capsule
Step into a culinary journey like no other with our exclusive "Time Capsule" private dining experience! Seats up to 4 people inside a remodeled bank vault (yes it used to be a real one!)

Indulge in the flavors of our renowned restaurant's existing menu, expertly crafted to tantalize your taste buds and create unforgettable memories. With a seamless blend of flavors, textures, and aromas, each course will transport you through a symphony of culinary excellence.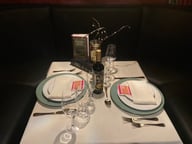 You're not just reserving a meal; you're securing two hours of uninterrupted time, allowing you to savor each moment without rush. Choose from our prime time slots, either the enchanting 4:30-6:30 pm or the captivating 7-9 pm, and let time stand still as you relish the ambience, company, and flavors that surround you.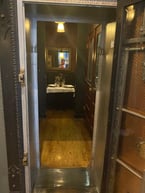 Unlock this exclusive dining haven for yourself and your guests, and immerse in a world of delectable delights. Your investment covers the selected menu between tiers one and two, beverages, a $100 room charge, and an 11% service fee on food and beverages, and taxes & gratuity. As an extra touch of elegance, enhance your experience with a stunning flower bouquet, available for a nominal fee.


Tier One: Elevate your evening with the opulence of Tier 1, where using the existing restaurant menu, you have an exquisite 4-course meal, accompanied by an enticing aperitif, two delightful wine/cocktail pairings, and a refined digestif.
Tier Two: Immerse yourself in nostalgia within our "Time Capsule" bank vault room, Tier 2. Relive cherished memories with a tailor-made menu, perhaps a Greek culinary journey evoking memories of your honeymoon. Indulge in a 4-course delight paired with an aperitif, two wines/cocktails, and a digestif. Crafted exclusively for you, the custom menu starts at $100 per person.

Book your "Time Capsule" bank vault room now, and let us curate a culinary journey that transports you to cherished moments.