Private Event/Room Spaces
Time Capsule
Step into a culinary journey like no other with our exclusive "Time Capsule" private dining experience! Seats up to 4 people inside a remodeled bank vault (yes it used to be a real one!)

Indulge in the flavors of our renowned restaurant's existing menu, expertly crafted to tantalize your taste buds and create unforgettable memories. With a seamless blend of flavors, textures, and aromas, each course will transport you through a symphony of culinary excellence.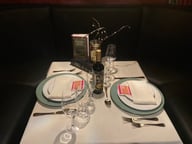 You're not just reserving a meal; you're securing two hours of uninterrupted time, allowing you to savor each moment without rush, let time stand still as you relish the ambience, company, and flavors that surround you.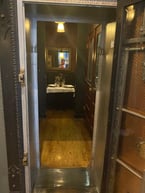 Unlock this exclusive dining haven for yourself and your guests, and immerse in a world of delectable delights. There is a service fee on food and beverages, and taxes & gratuity. As an extra touch of elegance, enhance your experience with a stunning flower bouquet, available for a nominal fee.

Tier One: Elevate your evening with the opulence of Tier 1, where using the existing restaurant menu, you have an exquisite 4-course meal, accompanied by an enticing aperitif, two delightful wine/cocktail pairings, and a refined digestif.
Tier Two: Immerse yourself in nostalgia within our "Time Capsule" bank vault room, Tier 2. Relive cherished memories with a tailor-made menu, perhaps a Greek culinary journey evoking memories of your honeymoon. Indulge in a 4-course delight paired with an aperitif, two wines/cocktails, and a digestif. Crafted exclusively for you, the custom menu starts at $100 per person.

Book your "Time Capsule" bank vault room now, and let us curate a culinary journey that transports you to cherished moments.

Wanderlust
Eclectic Art and Mirrors. Max Capacity 30-50 guests depending upon the type of event. This Room is perfect for those larger corporate or private events like birthdays that would like to dine in at Roots! Additional fees will apply.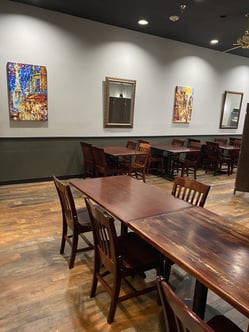 Sanskriti
Max capacity 12-30 guests depending upon type of event! The Sanskriti room provides a stunning South Asian ambiance meticulously designed by the owner. This cozy space boasts intricate details, including commissioned paintings from India that showcase doors found throughout the country. One of its remarkable features is an original window door sourced from a Jaipur palace. Additionally, the room preserves an original ceiling that adds to its unique charm and character. Additional Fees Apply.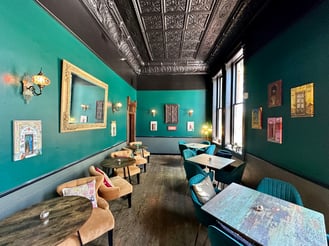 Full buy out
Have all of these rooms plus our outdoor Patio, Heritage Room displaying Longmont History, and Madhushala - our beautiful Eclectic Bar. Max Capacity 173-381 guests depending upon the type of event and weather. We also have our Dickens Opera House as an available venue or our venue in Broomfield! Additional Fees Apply.